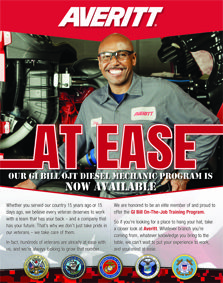 GI Bill Mechanic Program
Whether you served our country 15 years ago or 15 days ago, we believe every veteran deserves to work with a team that has your back – and a company that has your future. That's why we don't just take pride in our veterans – we take care of them.
In fact, we're committed to hiring 1,200 or more veterans by the year 2020. Nearly 2,000 veterans are already at ease with us, and we're always looking to grow that number.
We are honored to be an elite member and proud to offer the GI Bill On-The-Job Training program.
So if you're looking for a place to hang your hat, take a closer look at Averitt. Whatever branch you're coming from, whatever knowledge you bring to the table, we can't wait to put your experience to work, and your mind at ease.
OJT Diesel Mechanic Program
If you qualify for Post-9/11 GI Bill benefits, you are eligible to get up to 12 monthly payments from the Department of Veterans Affairs while you receive on-the-job training.
Everyone participating in this program will work with a mentor and leadership for training/communication
Eligible diesel mechanics will complete all required paperwork during orientation. Benefit checks are paid directly from the VA, not Averitt, usually 4-6 weeks after training begins.
Eligible to earn up to $1,140 per month tax free using your available Post-9/11 GI Bill funds PLUS your weekly Averitt paycheck.

Benefits
Family & individual BlueCross BlueShield medical coverage with 2 choices (PPO or high deductible health plan), dental, vision, prescription and hearing benefits package ALL starting as low as:

$32.05 per week for single coverage
$81.70 per week for family
With the option of even lower medical premiums if you participate in the upcoming year's wellness initiatives.

Profit Sharing, Traditional and Roth 401(k)

Life insurance and disability
Wellness programs
Company provided professional uniforms
Rider program - legal spouse only
Flexible spending accounts
Career advancement opportunities/promotion from within
Eight paid holidays (after 90 days of service)

Paid time off

Load securement and protection equipment supplied
Associate discounts on vehicles, computers, etc.
Paid orientation in Cookeville, TN with free lodging, transportation and meals
100+ Averitt locations at which to safely rest - some with exercise/workout facilities with showers

Red Thinkin' Rewards- points based program that encourages you to meet specific performance goals, and in return earn points towards a selection of over 12,000 gift items.

Averitt smartphone app for our drivers to download; assists with communication & convenience.

Driver Support Specialist located at our Service Centers to assist our drivers & help with concerns face to face.