The Power of Giving Back
For decades, our associates have developed a unique culture of giving back to our communities, establishing an extraordinary tradition of giving to those in need.
To honor our associates for their generosity and to ensure our ongoing support, Averitt contributes to Averitt Charities in partnership with our associates.
Averitt recognizes our associates' immense charitable giving through contributions made in honor of events in the lives of our associates. Additionally, Averitt makes monetary contributions that match the team's community service hours program.
Averitt Cares for Kids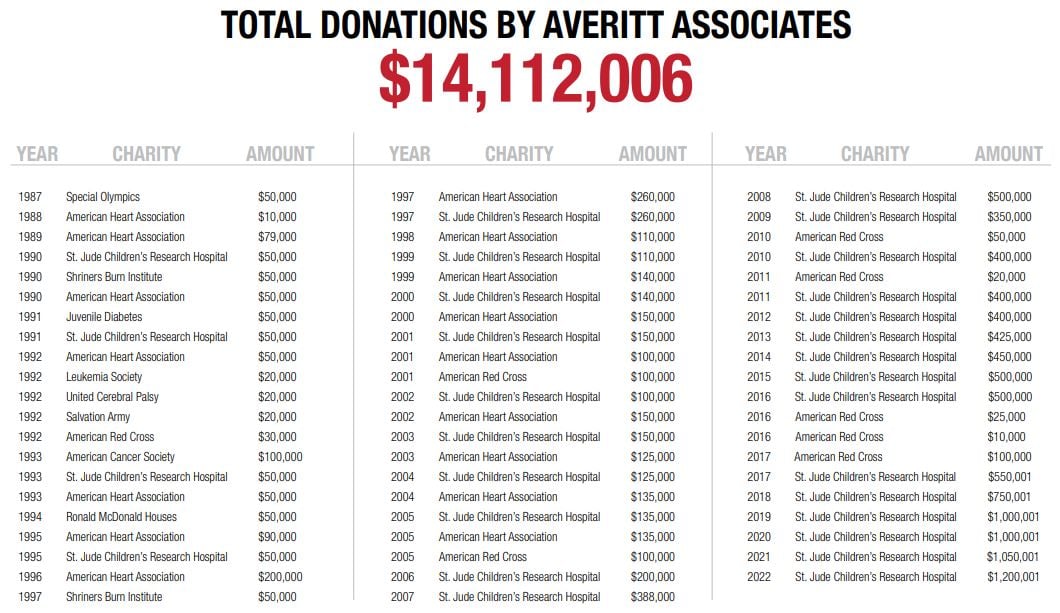 Since 1986, Averitt Cares for Kids has donated nearly $14 million to charities.
Averitt Cares for Kids is a non-profit charitable giving organization funded by and on behalf of our associates. For more than three decades, Averitt associates have touched the lives of the less fortunate through this program.
The organization is funded through associate contributions, as well as through company contributions made in recognition of associates' accomplishments, participation in Team Up Community Challenge projects, and life events. Associates elect to have $1 per week contributions deducted from their payroll on a weekly basis. Over 95% of our associates participate in the program.
Click here for more information about Averitt Cares for Kids.
Team Up Community Challenge
Team Up exemplifies the spirit our Averitt family has demonstrated when working together to give back to our local communities. It signifies how we work together to accomplish goals for our customers and our communities. Team Up also signifies our commitment to help others succeed through local community involvement, and the ongoing donation match back to Averitt Cares for Kids.
In 2022, associates from across our network teamed up to serve a record number of community service hours as part of our Team Up Community Challenge. The final tally for 2022 was 10,433 hours! That tops our previous record by more than 4,000 hours! A total of 95 facilities participated in Team Up events, serving 223 organizations.